Cornerstone Courses are high school courses taught at Village Home that are tied to an opportunity to earn a HIGH SCHOOL credit issued by the University of Texas Credit-by-Examination system.
This program is perfect for high school aged homeschoolers who:
plan to start an early college program at the community college when they turn 16. Learners can enter an early college program with some high school credits earned while enjoying the freedom and collegial environment in the Village Home classrooms they are familiar with. (We have confirmed that Baker Early College will accept these credits by examination.)
want to build a homeschool transcript with certified credits in core subjects
want to keep their high school options open as a homeschooler and earn HS credits that will potentially transfer to public and/or private schools (It is up to the learner's family to confirm if their future school will accept a credit-by-examination).
want to challenge themselves with a group of focused peers
Who can enroll in Cornerstone Courses?
Learners ages 14-18 who want a rigorous, homework-required classroom experience with the option to potentially earn a high school credit through a credit-by-examination.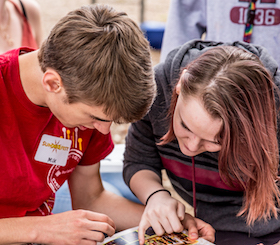 What are the pre-requisites for Cornerstone Classes?
English/Language Arts: reading and writing at an 8th-grade level or higher
History: reading and writing at an 8th-grade level or higher
Math: mastery of pre-algebra
Science: reading and writing at an 8th-grade level or higher and mastery of pre-algebra
What are Cornerstone Classes like?
Like all Village Home classes, they will be engaging and collegial. These classes meet twice a week, and have a substantial amount of homework required. Learners who do not keep up with homework assignments will have to leave their Cornerstone Course without a refund.
How do I earn High School Credit?
High school-aged learners enrolled in Cornerstone Courses will have the option to take a half-credit exam in February and in June to potentially earn one HIGH SCHOOL CREDIT for each Cornerstone Course. (Exam fee is $70/exam, and each exam is worth .5 credits). We do not guarantee that your learner will pass the exam and earn the credit, but the material presented in class will be aligned with the material on the credit-by-examination tests.
What Cornerstone Courses are offered at Village Home?
2022-23 Offerings:
English/Language Arts I
Biology
2023-24 Offerings:
Possible Offerings in 2022-23, plus
Geometry
Ecology/Environmental Science
History
English/Language Arts II
How do I know my learner's math and reading and writing levels?
These are available on standardized test reports. Or, if you prefer, you can measure your learner's levels in other ways.
Math
Complete or review Pre-algebra course at Khan Academy to mastery level (or equivalent).
Do this placement test for Algebra I, provided by Teaching Textbooks.
Reading
Gather the titles of the most recent three to five books your learner has read and comprehended. Go to the Lexile Level Tool, enter the titles, and note the Lexile reading level. Learners should be reading books at the 1100 level or higher for this program. Here is a list of 1100 Lexile Level books for your reference.
Complete the San Diego Quick Reading Assessment at Grade 8 or higher with 1 or fewer mistakes.
Writing
Enter a recent writing sample for the learner here, and check to be sure the Flesch-Kincaid Grade Level is 8th grade or higher.