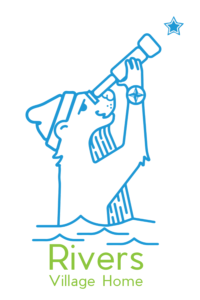 Happy learning happens here. In Rivers, learners are academically and socially engaged and inspired to take ownership of their learning. This program is designed for homeschooling families looking for a classroom community part-time. Please note, this is NOT designed to be a comprehensive program — it is part-time only.
Overview
2021/22 Days: Monday and Friday, approximately 33 weeks/year
2022/23 Days: Monday and Wednesday, approximately 33 weeks/year
Time: 9:00 – 3:30 (early drop-off and pick-up options available)
Ages: 5 – 13 (K-8th mixed-age cohorts)
Location: Beaverton Campus, 5150 SW Watson, Beaverton OR 97005
Instructors: Elizabeth Fisher, Aimee Sharp, Emily Souther
Who Is Rivers Day Program For?
Homeschooling families who value high-quality educational opportunities as much as learner autonomy, and who are seeking academic and social enrichment on a part-time basis for their children. In the Rivers Day program, the parent is still seen as the student's primary educator. Because this is a cohort-based program, learners in the program need to be operating academically, socially, and emotionally at grade level.
How Do I Apply?
Thank you for your interest in applying to the Rivers Day Program. After you complete this application, you will select an interview time and pay your interview fee of $60. Our application and interview process is designed to determine if our unique program is a good fit for your family. We look forward to meeting you and your learner!
Before you apply:
1. Contact two adults outside your immediate family who will complete a recommendation form about your child within the next 5 business days. Send each of them the Rivers Day Program Recommendation Form to fill out within five business days. Please note, if you are coming from another learning community or school, we prefer to have a former teacher be one of the recommenders. Have the names and emails of your chosen recommenders ready to include in the application.
2. We like to get an indication of reading level to know which cohort is appropriate for your child. Prior to filling out the application, please complete the quick San Diego Reading Assessment according to the directions with your child at home and note their independent reading level. This assessment takes most children about 5 minutes. Important notes about the quick assessment: (a) Applicants ages 5-7 are not expected to be reading independently, so you may skip this if your child is not yet reading independently, (b) Rivers is not a program designed to assist children with challenges reading or writing, (c) Don't panic, this is a simple indicator, not a judgment; we appreciate children unfold on unique timelines.
Please note, the application must be completed in one sitting, and takes about 15 minutes. If you have any questions, please contact us at hello@villagehome.org. Please have the following information in-hand when you apply:
1. General information about your learner.
2. Names and emails for your two recommenders.
3. Results of the San Diego Reading Assessment.
4. Your calendar so that you can pick an interview time that works for you and your child.
5. A credit card to pay the $60 non-fundable interview fee (due at time of application). If you cannot pay with a credit card, please contact us and we will make other arrangements for you.
An admission decision will typically be sent to you within 10 business days of your interview.
Deposit and Contract: A non-refundable deposit is due with a signed contract within 5 days to hold your spot.
VISIT THE RIVERS DAY PROGRAM FACEBOOK PAGE
The Rivers Day Program is committed to pro­viding an educational environment free from discrimination and harassment. We do not discriminate on the basis of race, color, national or ethnic origin, sexual orientation, or any other status protected under applicable federal or state laws. Village Home is sometimes located on church property, but is not programmatically affiliated with any religious organization.