We are offering select classes ONLINE! Details HERE. Registration Opens Monday, March 30 at noon. Classes begin the week of April 6th. Join us during our time at home to keep the learning and community connection going.
IN-PERSON Classes/Activities are suspended until further notification.

Check here for Covid-related notifications and updates.
Own Your Learning at Village Home
Village Home provides classes and community for homeschooling families. Village Home learners are empowered to create an engaging and fully customized education to enrich their home-based work with the guidance of their family. Learners choose classes and enjoy learning without testing or grading. We are the home-away-from-home for 800 happy preK – high school learners. Experience real choices for real learning in Beaverton, Portland, and Salem.
Meet a Village Home Student
Course Offerings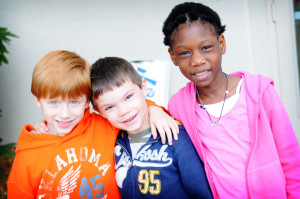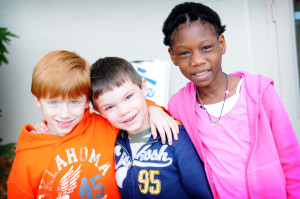 Take one class, or many: it is up to you! Learners are free to customize their education by choosing from over 200 engaging classes a week. We offer over 200 engaging, mixed-age classes in all subjects (PreK – High School) on three campuses in Beaverton, Portland, and Salem. Our unique approach to education encourages learners to take ownership of their learning. All classes are grade-free and test-free, and are taught by talented educators focused on inspiring kids to learn inside and outside of the classroom walls. Most classes (not all) accept mid-term enrollment.
Click here to learn more about Tuition, Community Duty, & Priority Registration.
Why Village Home?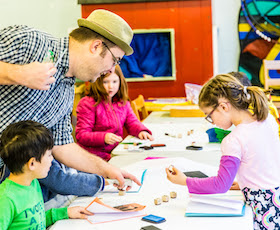 At Village Home, we know learning is seriously fun. It's not enough kids to learn. We want them to want to learn. Engaging teachers, family-friendly campuses, and a non-standardized approach allows learners to foster their natural drive to learn. Most Village Home learners are homeschoolers, and parents serve as the education manager for their own kids. Some parents rely completely on classes at Village Home for their child's education, and some parents provide most of their child's direct instruction at home and come to Village Home for "extras". We are happy to serve you on your customized education path.
More Than Classes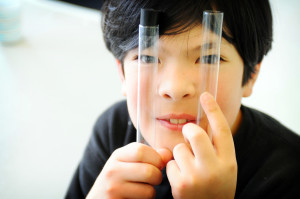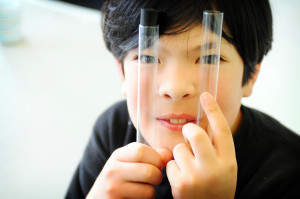 Village Home offers learners and their families community and  a variety of opportunities to make your family learning adventures fun and easy. We have a community of active families who enjoy learning with their kids, and value learning in a diverse community of learners and teachers. In addition to classes, we have a part-time Day Program, Choices (a mentoring program for Teens), Tutoring, Theater and Improv Performance, Field Trips, Service Learning, Outdoor School, Teen Retreats, Team and Individual Competitions (such as Mock Trial, Destination Imagination and First Lego League), and much more. We inspire community connections through regular community social events for our families.
Hear From VH Teens - What is it like to be homeschooled?
Village Home in the Press
After many weeks of hard work, the Village Home Mock Trial teams ("VHMT") competed at the Oregon High School Mock Trial Regional Tournament on Saturday, February 22, 2020. Team Green and Team Blue went toe-to-toe against some of the best schools in our region and displayed incredible levels of knowledge, poise, and professionalism. The day included some unprecedented challenges (for example, being asked to leave the building before the trial was completed and then walking three blocks to another building to finish in front of new judges!) but the team members rose to meet each one without missing a beat. Congratulations to both teams on a fantastic competition and good luck to Team Blue, who finished in the top four and earned a bid to the State Tournament on March 7th and 8th! Special congratulations are in order for our MVP winners! MVP awards are presented by the opposing team.  MVP Witness awards: Adam Lulich, Kayla Durand, Stephen Swanson, Zach Terhaar. MVP Attorney awards: Claire Johnston, Thomas Lowe (2), William Mueller (2).
Congratulations to Sevyn South, the Poetry Out Loud: National Recitation Contest champion from Village Home. Sevyn advanced from the Regional competition to the STATE POL competition on Friday 13th March, 5 p.m. at the Allied Video Production Studio, in Salem. The competition is open to the public — if you have a homeschooler who is inspired by poetry, come watch! The winner at state advances to nationals, with an all-expenses paid trip to Washington DC. Sevyn is 15 years old, likes history and politics, and participated in his first Ethics Bowl this year. He is part of Portland Center Stage at The Armory's teen community, attends local theater as much as possible, and takes classes at Oregon Children's Theatre. His favorite thing to do is to write and he hopes to pursue it as a career. Poetry Out Loud is a national recitation contest for high school students, organized in Oregon by the Oregon Arts Commission in collaboration with the National Endowment for the Arts and the Poetry Foundation. Participants memorize and present poems, practicing public speaking skills while exploring the complexity of poetry.
The results are in! The National Geographic Society named James Skaer, Portland area homeschooler who competed at Village Home, as one of the semifinalists eligible to compete in the 2020 National Geographic GeoBee State Competition. The contest will be held on Friday, March 27, 2020. Congratulations James, and good luck at State! State champions will receive a medal, $1,000 in cash, and other prizes, as well as a trip to Washington, D.C., to represent their state in the National Championship where they will compete for additional cash, awards and college scholarships.The second- and third-place State GeoBee winners will receive cash awards of $300 and $100, respectively.  The 2020 National Championship will take place May 18-21, 2020, at National Geographic headquarters. The National Champion will receive a $25,000 college scholarship, $1,000 in cash, a lifetime membership in the National Geographic Society and an all-expenses-paid Lindblad expedition to the Galápagos Islands aboard the National Geographic Endeavour ll. The second-place finisher will receive a $10,000 college scholarship and $1,000 in cash; the student finishing in third place will receive a $5,000 college scholarship and $1,000 in cash; and seven runners-up will each receive $1,000 in cash. Visit www.natgeobee.org for more information on the National Geographic GeoBee. How would you fare as a National Geographic GeoBee contestant? At the school GeoBees this year, students had to answer questions like these: Which state is located west of Lake Huron—Minnesota or Vermont? Minnesota Known for the tree nuts resembling deer eyes, which midwestern state is called the Buckeye State—California or Ohio? Bosnia and Herzegovina Once the western terminus of the Northern Pacific Railroad, Tacoma is a major port and industrial city in which northwestern state? ABOUT THE GEOBEE Developed by the National Geographic Society in 1988 to promote geographic knowledge among young people in the United States, the National Geographic GeoBee is an academic competition for public schools, private schools and homeschools in the United States and its territories, as well as the Department of Defense Dependents Schools. Students in grades four through eight from nearly 10,000 schools participate annually for a chance to win college scholarships and the glory of being the National Geographic GeoBee Champion. Over more than three decades, 120 million students have learned about the world by participating in the GeoBee. ABOUT THE NATIONAL GEOGRAPHIC SOCIETY The National Geographic Society is a global nonprofit organization that uses the power of science, exploration, education and storytelling to illuminate and protect the wonder of our world. Since 1888, National Geographic has pushed the boundaries of exploration, investing in bold people and transformative ideas, providing more than 14,000 grants for work across all seven continents, reaching 3 million students each year through education offerings, and engaging audiences around the globe through signature experiences, stories and content. To learn more, visit www.nationalgeographic.org or follow us on Instagram, Twitter and Facebook.