Check here for Covid-related notifications and updates.
Own Your Learning at Village Home
Village Home provides classes and community for homeschooling families. Village Home learners are empowered to create an engaging and fully customized education to enrich their home-based work with the guidance of their family. Learners choose classes and enjoy learning without testing or grading. We are the home-away-from-home for 800 happy preK – high school learners. Experience real choices for real learning in Beaverton, Portland, and Salem.
Meet a Village Home Student
Course Offerings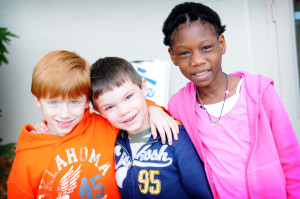 Take one class, or many: it is up to you! Learners are free to customize their education by choosing from over 200 engaging classes a week. We offer over 200 engaging, mixed-age classes in all subjects (PreK – High School) on three campuses in Beaverton, Portland, and Salem. Our unique approach to education encourages learners to take ownership of their learning. All classes are grade-free and test-free, and are taught by talented educators focused on inspiring kids to learn inside and outside of the classroom walls. Most classes (not all) accept mid-term enrollment.
Click here to learn more about Tuition, Community Duty, & Priority Registration.
Why Village Home?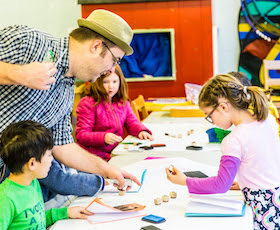 At Village Home, we know learning is seriously fun. It's not enough kids to learn. We want them to want to learn. Engaging teachers, family-friendly campuses, and a non-standardized approach allows learners to foster their natural drive to learn. Most Village Home learners are homeschoolers, and parents serve as the education manager for their own kids. Some parents rely completely on classes at Village Home for their child's education, and some parents provide most of their child's direct instruction at home and come to Village Home for "extras". We are happy to serve you on your customized education path.
More Than Classes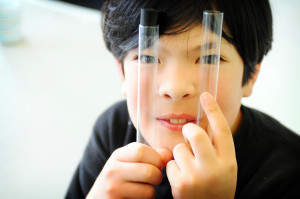 Village Home offers learners and their families community and  a variety of opportunities to make your family learning adventures fun and easy. We have a community of active families who enjoy learning with their kids, and value learning in a diverse community of learners and teachers. In addition to classes, we have a part-time Day Program, Choices (a mentoring program for Teens), Tutoring, Theater and Improv Performance, Field Trips, Service Learning, Outdoor School, Teen Retreats, Team and Individual Competitions (such as Mock Trial, Destination Imagination and First Lego League), and much more. We inspire community connections through regular community social events for our families.
Hear From VH Teens - What is it like to be homeschooled?
Village Home in the Press
Maeve Z, a Village Home Alum who spent more than 10 years in the community, headed off to the American Academy of Dramatic Arts in New York City this fall with an impressive list of accomplishments already under her belt. Maeve recently checked in to let us know, "NYC has been wonderful so far and AADA is everything I hoped it would be and nothing I expected.  The fast-paced, demanding environment evokes collaboration and ingenuity. I'm finding new inspiration and new co-collaborators around every corner." Just in time for Halloween, Keizer's Homegrown Theater staged a spooky tale called Let the Right One Burn, written by Maeve Z, inspired by Julius Long's 1934 short story The Pale Man. Her debut show was Leaving Manzanita, which she finished writing when she was 16. Leaving Manzanita had its debut as part of the Fertile Ground Festival of New Works, where Maeve was the youngest participating playwright. Since then, two of her other plays have been produced: The Icarus Paradox, a Village Home Zoom production, and Reckoning, which premiered as a part of Portland Center Stage's Visions & Voices. Her adaptation of The Great Gatsby was slated to premiere this winter, but COVID-19 has put that project on ice for the moment. When asked, what inspires her, Maeve's answer was quick and clear, "People are my biggest inspiration, hands down. People I know, people I barely know, people I've never met in my life — they all end up in my plays." She misses the forests and the food in Portland, but is happy to be where she is in New York honing her craft, and following her passions. Stay tuned — we will be reading and watching more of this talented writer's work!
Students, Parents and Teachers Tell Their Stories of Remote Learning By Amelia Nierenberg Oct. 14, 2020 Illustration by Natalia Ramos We asked readers across the country how they are tackling these new challenges. Here is what they said. …"One of the ways I'm bringing that out is the use of virtual backgrounds for the kids. Rather than it being a distraction, having a daily challenge for a cool background is allowing kids to bring their creativity to the classroom. Each week, I give a super open-ended theme and then the kids get to show up with their cool backgrounds. Also, I spend about 10 minutes at the beginning of the class with a home scavenger hunt. Everything is very open-ended, so nobody has to feel bad about not having that exact object. "Find something that you could use to …" and the choices are "fix a robot satellite," etc. It's 10 minutes out of their day that enables them to be creative and they're much more willing to engage in class after that. Loriann Schmidt, a middle school and high school teacher at Village Home Education Resource Center, Beaverton, Ore." See full Article.
It's here! The episode Of Honey! I'm Homeschooling The Kids podcast is live – featuring Village Home! In this episode, Lori shares the story of her homeschool beginnings and the creation of Village Home. She also shares the importance of natural learning and how Village Home is all about supporting that and creating a family friendly, community focus for the learners.