Things are happening in Fall 2020 – join our mailing list for updates!
Check here for Covid-related notifications and updates.
Own Your Learning at Village Home
Village Home provides classes and community for homeschooling families. Village Home learners are empowered to create an engaging and fully customized education to enrich their home-based work with the guidance of their family. Learners choose classes and enjoy learning without testing or grading. We are the home-away-from-home for 800 happy preK – high school learners. Experience real choices for real learning in Beaverton, Portland, and Salem.
Meet a Village Home Student
Course Offerings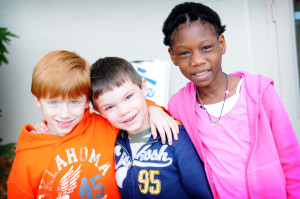 Take one class, or many: it is up to you! Learners are free to customize their education by choosing from over 200 engaging classes a week. We offer over 200 engaging, mixed-age classes in all subjects (PreK – High School) on three campuses in Beaverton, Portland, and Salem. Our unique approach to education encourages learners to take ownership of their learning. All classes are grade-free and test-free, and are taught by talented educators focused on inspiring kids to learn inside and outside of the classroom walls. Most classes (not all) accept mid-term enrollment.
Click here to learn more about Tuition, Community Duty, & Priority Registration.
Why Village Home?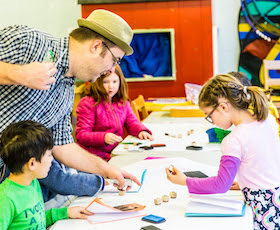 At Village Home, we know learning is seriously fun. It's not enough kids to learn. We want them to want to learn. Engaging teachers, family-friendly campuses, and a non-standardized approach allows learners to foster their natural drive to learn. Most Village Home learners are homeschoolers, and parents serve as the education manager for their own kids. Some parents rely completely on classes at Village Home for their child's education, and some parents provide most of their child's direct instruction at home and come to Village Home for "extras". We are happy to serve you on your customized education path.
More Than Classes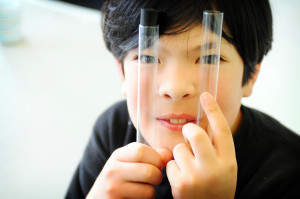 Village Home offers learners and their families community and  a variety of opportunities to make your family learning adventures fun and easy. We have a community of active families who enjoy learning with their kids, and value learning in a diverse community of learners and teachers. In addition to classes, we have a part-time Day Program, Choices (a mentoring program for Teens), Tutoring, Theater and Improv Performance, Field Trips, Service Learning, Outdoor School, Teen Retreats, Team and Individual Competitions (such as Mock Trial, Destination Imagination and First Lego League), and much more. We inspire community connections through regular community social events for our families.
Hear From VH Teens - What is it like to be homeschooled?
Village Home in the Press
The learners in Village Home's Buy, Sell, Hold Class ended up in first place at the top of the class for the Region's Stock Market Game competition with a portfolio value of $106,439.97 and an average return of 9.93%. They beat out Riverdale, North Marion, and Pleasant Hill for the top spot! The individual portfolio of Logan Bouchard and Chase Williams ranked in the top three overall! Congratulations to the future successful investors and their team coach, Elissa Ryan-Morris.
VH Alumna, Sarah Isabella Dimuzio's latest album, Abuzz in the Abyss, is featured on NPR's New Music Friday today as the "discovery new artist". Sarah started playing while she was a learner at Village Home, and performed for Village Home families and friends at the neighborhood coffee shop as a young singer/songwriter. Described as "crisp, timeless, and economical. There's no waste in her songwriting." These are songs about observing the world with a kind of wonder and awe, even when everything is awful." Catch her at minute 32. New Music Friday on NPR
Mitchell Lenneville was selected as one of sixty-two outstanding college students from 55 institutions as a Truman Scholar. The Truman Foundation reviewed 773 files from 316 institutions. Students were nominated by their institution based on their records of leadership, public service, and academic achievement. Mitchell got his start at Village Home as a member of the Model UN Team and Mock Trial Teams. Mitchell Lenneville, American University, is a community college alumnus and current Politics, Policy and Law Scholar, pursuing an interdisciplinary degree in communications, legal institutions, economics, and government. He currently works for the ranking member of the House Committee on Energy and Commerce, Congressman Greg Walden, and previously gained experience as a speechwriter for Attorney General William Barr. At American, Mitchell helped develop the groundbreaking Model G20 Summit, competed as a member of one of North America's top Model United Nations teams, mentored other students as a resident assistant, and organized his classmates to speak out about the rising cost of college as the director of financial aid and affordability for AU's student government. Prior to coming to Washington, Mitchell was deeply involved in Oregon electoral politics, staffing a total of five campaigns, including managing candidates during two highly competitive state senate races in 2016 and 2018. He plans to pursue a career in local politics, helping Oregon become a more prosperous and inclusive state.  Press Release