If you are an energetic and enthusiastic student interested in public speaking, drama, law, or political science, you are encouraged to enroll!  Mock Trial is a valuable program that teaches you essential life skills, but, just as importantly, it's a program that's lots of fun! Village Home has an impressive record of competing at the regional, state, and national levels.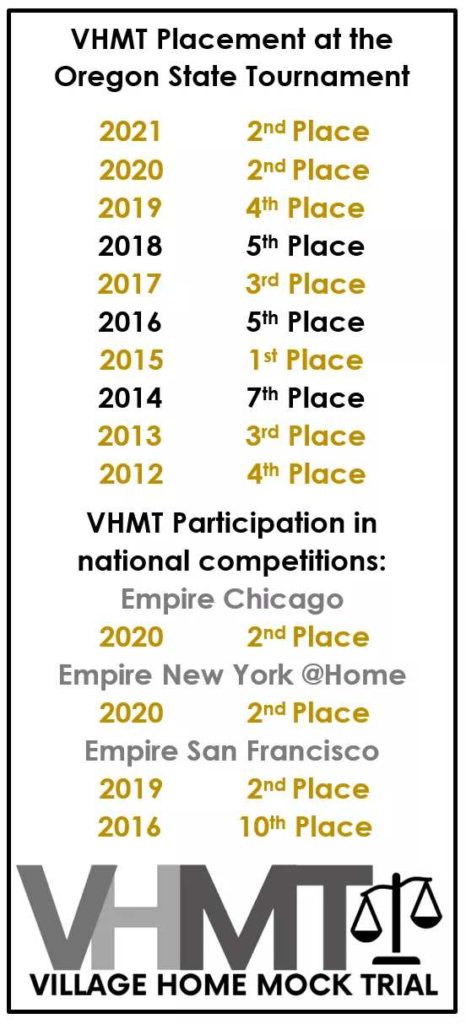 Here is some important information about the class and competition:
Mock Trial is a team-based, competitive activity that requires a commitment outside of class. Team members should plan on attending all competitions and participating in longer practices, extra team meetings, and scrimmages prior to competitions. Additional practices will be added prior to competition dates.
Important dates:
September 24, 2020 – Mock Trial Kickoff Press Conference (virtual)
October 24, 2020 – University of Oregon Mock Trial Invitational (virtual)
February 2-18, 2021 – OR HS Mock Trial Regional Competitions (virtual)
March 12-13, 2021 – OR HS Mock Trial State Tournament (if team advances) (virtual)
Mock Trial is a homework-based class. Homework may include reading and analyzing case materials, writing portions of the case presentation, and practicing/memorizing parts individually or as a group. Learners will be placed on teams based on several factors – including ability, knowledge, and teamwork skills – and assigned attorney or witness roles (or both). Homework loads will vary significantly depending on the roles assigned.
Learners must be 14 by September 1 of the current fall term, to enroll in this class.
The Oregon High School Mock Trial competition is presented by Classroom Law Project. You can learn about their organization here: CLP.
Please contact VHMT coach Deborah Mueller, a former attorney and current teacher at Village Home, at deborah.mueller@villagehome.org if you have questions about the class, the Mock Trial program, or your child's eligibility.