Who are Village Home Learners?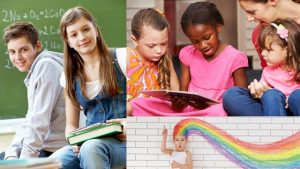 Village Home is a thriving community that serves homeschooled kids ages PreK through High School in a mixed age community. We are a family-centered learning community collectively inspiring minds. Parents manage the education of their children, and that looks different for every family, and often, every child, within a family.
Village Home students are self-directed learners who actively participate in their educational plans with their families. Parents are the managers of their children's education, and, in most cases, learners engage in learning activities outside of Village Home. Because we have a structure based on trust that maximizes student autonomy, students must be able to manage their own learning constructively in the classroom. Village Home classrooms accommodate a wide range of academic ability, but we are not a program designed for learners with academic, emotional, or behavioral challenges that preclude them from managing their own learning constructively in the classroom.
Village Home serves accelerated learners through our mixed-age, interest-based design; some classes have required age ranges, but most classes are open to learners who are working above their grade level. Village Home teachers are not trained to serve students with special needs. In some cases, special needs students are accommodated with their parent or an aid designated by the parent.
Learner and Family Stories:
Young Family Fun at Village Home
by Davina Fitzgerald, VH Parent
We are homeschooling our two children (Corabelle, 5 and Ezra, 2.) Ezra is an active and energetic boy. He loves observing everything in the world around him. Ezra is fascinated with anything that moves. He loves climbing and building and taking things apart. Ezra started tagging along to classes at Village Home with his older sister when he was 13 months old. Within a few months, upon arriving at at Village Home, Ezra would run right into the room and was so excited. He walks through the hall waving at all the kids and adults he sees. Ezra loves when teenagers talk to him or play ball with him.  His favorite parts of Little Villagers are the interactive songs at circle time, and playing on the playground with his friends. Ezra loves singing and playing with the ukulele and other instruments at home. He enjoys having books read to him, and exploring on neighborhood walks. His favorite toys are balls and blocks. Ezra also loves riding around the neighborhood on his bike seat where he can see everything. He is very social with children and adults and loves going on outings.
Beyond High School:  Click here
A Healing Journey
by Amy Minato, VH Parent
My husband and I are teachers and always planned to be very active in our children's educations. We homeschooled our son, Mateo, through Village Home for one year. Village Home classes were intriguing and the teachers were friendly and enthusiastic. It was a delightful year!
Because of life circumstances, we decided enroll Mateo at a highly academic, local public focus program in their neighborhood, and he has been very happy there. Conversely, our daughter, Ruby, is now in recovery from that same public focus program. She struggled for 3 years with the intensity and rigor, and the narrow focus on reading. She froze up and learned to hate school and to hate reading.
Exhausted from the shifting and cruel social dramas, the oppressive and often pointless homework, and reeling from teacher threats and peer sneers, she brought the strength of her fear, rebellion and anger home. By third grade she developed blurred vision, tummy aches and nightmares. Homework was a 2-hour stress-fest.
Ruby returned to Village Home like a migrating swallow returning home. After one day she remarked "Mom, there aren't any bullies at that place!" The immense relief and calm has rippled through our family, and we are all seeing clearer now.
Thanks to Village Home for returning to us our vivacious daughter, our peaceful home and our collective love of learning!
A Homeschool Dream Comes True
by Loriann Schmidt, VH Parent and Instructor
Our early dreams of homeschooling came to a screeching halt for the us when our happy child showed signs of sensory processing issues at a very young age. Wonderful ESD autism specialists diagnosed James with autism and he received amazing classes and therapy via the Early Intervention Program. Though worries of the future faded slowly as we saw improvement with all the supports, we still believed homeschooling was out of reach.  A friend that homeschooled her own children asked me, "Why can't you homeschool? You know your son and his needs better than any therapist or special ed teacher!" Indeed! Why had we so easily given up on homeschooling as an option?
We sent James sent to kindergarten just blocks from home, thinking he could get professional support there to thrive. His IEP (Individualized Education Plan for special needs kids) was completed, the speech therapist was delightful and smart, and his kindergarten teacher seemed competent. On the 4th day, he came home crying. His teacher asked him not to read the big books to the other kids because it was making them "feel bad that they couldn't read like he could". By kindergarten, he was reading at 6th grade level. We pulled him out of school the very next day. Our friend was right: we DO know our son better than any teacher, special ed teacher or therapist! Homeschooling allowed us to completely manage James' autism first-hand. We were right there when a new issue arose and had time to ensure that his every need was attended to.
Two different friends sang praises about Village Home! Despite the hour-long commute from Salem, we started attending one day-a-week. We were blown away by the professionalism and joy of learning exuded by Village Home and everyone who attended there.  James' one day a week quickly turned into 3 days a week, and soon we were asked to teach science classes. After one summer break, as we got into the car for our first, hour long drive of fall term to Village, James said "Ah, car, we meet yet again for the long trek north." But when asked if he'd rather not go, his reply was "Are you kidding?  What would we do without Village Home?!"
Flexible for the Entire Family
by Susan Peterson, VH Single Parent
Village Home was a great academic and social option for two very different kids in one family: Each had differing learning styles, different abilities and different interests.
Patrick was allowed to participate in a very auditory learning manner, which is the way he learns best. Written materials simply eluded him, both in access and in production. The ability to converse was wonderful for this bright and full-of-quirks being, and he learned by listening and discussing with his peers and inspiring teachers. Because the focus was on learning, not on writing, he was comfortable, and learned even more.
Caroline was always adept at learning in a traditional classroom setting. At one point, she decided she "needed" a "real school", so we enrolled her in a local private school, but after a year, she realized that Village Home was the best place for her to learn as well, so she came back "home".  She liked writing papers in her classes, and participating in the class discussions.  The social atmosphere of Village Home, where individuals are intent on learning, helped Caroline thrive and focus on her interests. In addition to classes, she participated in teen events and in Village Home governance, which was an important part of her successful educational process. After Village Home Caroline took classes at PCC before heading off to Cornell to study landscape architecture.
Our Go-To Resource: Village Home
By Jody Temple-White, VH Parent
When Allison was a third grader, she had an IEP and received  support for speech therapy and writing. Being removed from the classroom for these daily services negatively impacted her studies and increased her stress. As she lost interest in school, we knew something had to change. We explored educational alternatives and learned about Village Home. After attending an open house , Allison decided to try this new method of learning and she was immediately engaged with fun, interactive and educational classes. She quickly met new friends and was excited about going to school each day.
Village Home has been an incredible resource as Allison and older brother, Riley, transitioned from traditional schools to a more self-directed education plan. The leaders of Village Home, along with the teachers, have created an environment where our kids love to go and learn in a way totally different from the traditional public schools.  During this time, we took a year off to travel around-the-world – read about it at www.thecouragevibe.com. This trip would require both Allison and Riley to adjust to a new system of education, one that requires self-discipline, organization, and accountability. They explored the Choices option with Jenny Forrester for schooling while abroad, and together we created a plan that was flexible for travel. When we returned, Riley completed his education at his local high school, and Allison continues to take classes at Village Home, and hasn't decided what she will do for high school yet. Both of them know that their experience at Village Home, along with their nine months abroad, have changed their perception of learning and the educational system.
A new engagement in learning happened when their kids began attending Village Home, and this has continued as they traveled the world. Village Home planted seeds in both Riley and Allison, and fostered an interest in learning that was not evident when they attended public school. The Village Home community is supportive, innovative, and open to solutions for families who are looking for new ways to engage their children in learning.  Both Allison and Riley have become self-directed learners, disciplined and engaged in their learning, which is a wonderful gift. The family is grateful for Village Home, Lori Walker, Jenny Forrester and the many other teachers who are working hard every day to inspire and engage kids.