Village Home of Champions: Learning in Friendly Competition
Village Home learners shine at regional, state, and national school competitions and Bees. Our learners have the opportunity to participate in a variety of competitions, and have won numerous awards after competing in national and global arenas. Most recently, one of Village Home's three Mock Trial Teams won the 2015 State Championship and competed at nationals in North Carolina.
Mock Trial, Model United Nations, and the International Thespian Honor Society are Village Home classes in the course catalog, and teams are formed from those classes.
Other Village Home teams are created and led by parent volunteers and include Destination Imagination, First Lego League, Jr. First Lego League, and First Tech Challenge.
The Homeschool Bees are hosted by Village Home and open to all Portland/Metro area homeschoolers. The National History Bee, the National Geographic Bee, and the Scripps Spelling Bee series begin in January each year.
Read more about all of these opportunities below, and check the Village Home Calendar and Events page for current dates and deadlines.
Mock Trial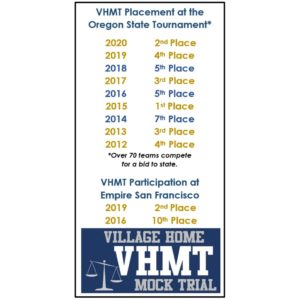 The Village Home Mock Trial program (VHMT) started in 2010 with a small group of interested learners. Over the years it has grown into a highly successful program with two or more teams each year. VHMT participates in the Oregon High School Mock Trial competition, organized by Classroom Law Project. Each year, over 70 teams from high schools around the state compete in regional competitions in March. VHMT has consistently placed in the top five at the state tournament. In 2015, VHMT won State and represented Oregon at Nationals. Members work hard but have tons of fun while challenging themselves, learning important life skills, and making lasting memories with their teammates.  To prepare, teams prep mock court cases, playing the roles of attorneys, witnesses, and court officers. They develop critical analysis, public speaking, teamwork, and research skills while learning about legal concepts and civic engagement.  Team members gain poise and self-confidence under pressure. Through in-class practices and scrimmages with other schools, the team(s) prepare for competition. Mock Trial requires a commitment outside of class – extra practices and scrimmages happen outside of the regular class time and teach learners valuable time management skills.  More details about this year's program here. 
Model United Nations
Model United Nations is an incredible opportunity for students from all over the state to come together and debate real-world, relevant issues. Not only does it allow for in-depth and stimulating research about these topics, but it provides a platform to begin discussion on an ultimate solution. Every generation is given a duty to maintain security and international harmony. Model United Nations strives to emulate the peacekeeping qualities of the true United Nations: an organization created for peace and for justice. In a world plagued by violence, the United Nations stands as a prevailing hope of civilized argument, of agreement, and of compromise. In 2013, VH student Amelia Bryan, was awarded Secretary. In 2014, the VH team represented Canada and Turkey, and in 2015, the VH team represented Russia.
International Thespian Honor Society
The International Thespian Society (ITS) is the Educational Theatre Association's student honorary organization. ITS recognizes the achievements of high school and middle school theatre students. Since 1929, EdTA has inducted more than 2 million Thespians into ITS. That number continues to grow, with more than 36,000 students from around the country being inducted each year. Village Home's Thespian is led by troupe director Loriann Schmidt. Students earn an invitation to be inducted into the Thespian Society.
Thespian troupes include students in grades 9-12, and Junior Thespian troupes include students in grades 6-8. There are troupes in more than 4,000 high schools and middle schools. A few of our Thespian alumni are famous names from the entertainment industry, including Tom Hanks, Val Kilmer, James Marsters, Julia Louis-Dreyfus, and Stephen Schwartz. But most alumni are in just about any industry you can imagine and excel using skills they learned as Thespians.
Village Home currently has an active Thespian and Junior Thespian Troupe. For more information: VH Drama Club & Thespians
Destination Imagination
The mission of Destination Imagination (DI) is to develop opportunities that inspire the global community of learners to utilize diverse approaches in applying 21st Century Skills and creativity. The DI program encourages teams of learners to have fun, take risks, focus, and frame challenges while incorporating STEM (science, technology, engineering, and mathematics), the arts, and service learning. Our participants learn patience, flexibility, persistence, ethics, respect for others and their ideas, and the collaborative problem solving process. Teams may showcase their solutions at a regional and state tournaments. Start a Team Information.
First Lego League/Jr. First Lego League
First Lego League introduces younger students to real-world engineering challenges by building LEGO-based robots to complete tasks on a thematic playing surface. FIRST LEGO League teams, guided by their imaginations and adult coaches, discover exciting career possibilities and, through the process, learn to make positive contributions to society.
For children ages 6-9, Junior FIRST® LEGO® League (Jr.FLL®) captures young children's curiosity and directs it toward discovering the wonders of science and technology. This program features a real-world scientific concept to be explored through research, teamwork, construction, and imagination. Guided by adult Coaches, teams use LEGO® bricks to build a model that moves and develop a Show Me Poster to illustrate their journey.
First Tech Challenge
First Tech Challenge is designed for students in grades 7-12 to compete head to head, using a sports model. Teams are responsible for designing, building, and programming their robots to compete in an alliance format against other teams. The robot kit is reusable from year-to-year and is programmed using a variety of languages. Teams, including coaches, mentors and volunteers, are required to develop strategy and build robots based on sound engineering principles. Awards are given for the competition as well as for community outreach, design, and other real-world accomplishments.
Individual Competitions
Every year Village Home hosts the Portland/Metro Homeschool Bees! These include the National History Bee, the National Geographic Bee, and the Scripps National Spelling Bee. The Bees start in January, and are open to all area homeschoolers. Check the Village Home Calendar and Events page for current dates and deadlines.
National Geographic Bee
A World of Fun: Students in grades four through eight can test their knowledge in all aspects of physical and cultural geography at the annual National Geographic Bee. The 100 top-ranked competitors of the Qualifying Bee advance to the State Bee. State-level winners attend the National Championship.
Scripps National Spelling Bee
A Winning Tradition: The National Spelling Bee is the largest, most popular competition for word lovers in first through eighth grade. The winner of the Qualifying Bee advances to the Regional Bee sponsored by the Portland Tribune. Regional Bee winner competes in the National Competition.
Poetry Out Loud
The National Endowment for the Arts and the Poetry Foundation have partnered with U.S. state arts agencies to support Poetry Out Loud, a contest that encourages the nation's youth to learn about great poetry through memorization and recitation. This program helps students master public speaking skills, build self-confidence, and learn about their literary heritage. Contestants memorize and recite three poems. See details here.
Coaching a VH Team
Some of our competitive teams are not classes and are coached by volunteer parents who are willing and able to commit a large amount of their time and energy to support a student team through their competition year.
To start a team, ask your child's friends and classmates directly if they are interested in joining a team. If you need more team members, extend the invitation and ask other Village Home community members if any of their children are interested in joining a team.
Teams can reserve  meeting space on campus, have the advantage of using the non-profit status of VH for fundraising efforts, and the use of some materials. Families who have children on a team are responsible for all tournament and competition fees, as well as travel expenses associated with competitions. Teams coached by volunteer parents operate independently from Village Home and Village Home is not responsible for any facet of team recruitment or team management.