Explore. Discover. Create. Connect.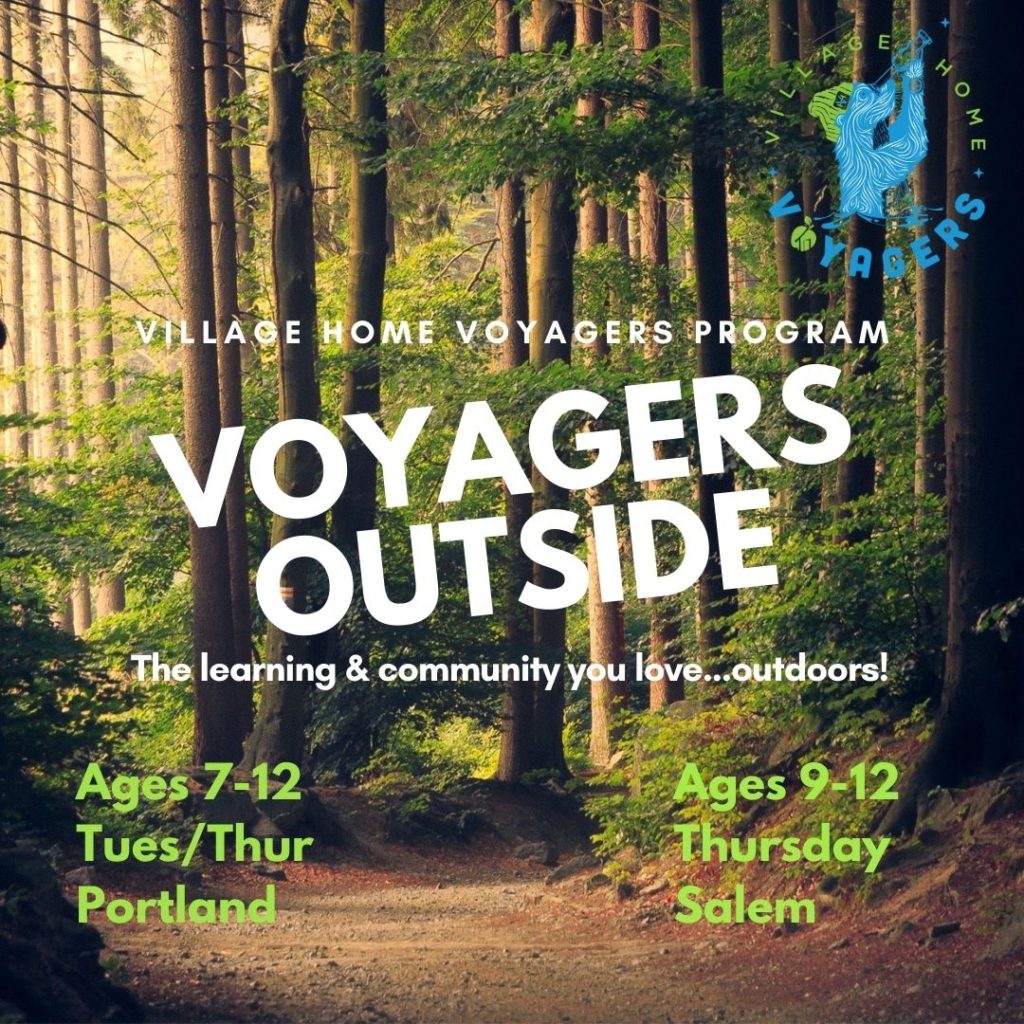 Our Village Home Voyagers Outside Program is an opportunity for learners to gather in small groups outdoors for the 2020/2021 learning year.
With options in Portland, and Salem, the Voyagers Program offers a fun, affordable ($14/instructional hour), in-person learning opportunity with an engaging curriculum using our environment as a foundation for our learning together. Cohorts of up to 12 learners will be created upon registration.
REGISTRATION OPEN FOR SPRING TERM!
FREE TRIAL DAY! Sign up for our FREE Trial Day (March 9th in PDX and March 25th in Salem) HERE
Portland: Half-Days Option
Portland Two Half-Day Option: Tuesday/Thursday mornings from 10:00 a.m. – 1:30 p.m. (for ages 7 -12) at Little Gabriel Park in Portland.
For more information and registration for Portland, click here.
Salem: Half-Day Option
Salem Half-Day Option: Thursday afternoons from 1:00 – 3:30 p.m. (ages 8 -12) on Private Land in South Salem
For more information and registration, click here.

Who Is Voyagers For?
Families who value high-quality educational opportunities as much as learner autonomy, and who are seeking academic and social enrichment on a part-time basis for their children in the beauty and safety of the outdoors. In the Village Home Voyagers program, the parent is still seen as the student's primary educator. Because this is an outdoor program and safety is the highest concern, learners in the program need to be able to self manage in small groups without creating a potential safety hazard for the cohort, instructors, and other learners. The teachers work hard to differentiate instruction across a wide age range in this program. If you have questions about if this program is a good fit for your learner, please email office@villagehome.org, or call 503-484-5191 for the Portland program and 503-400-7854 for the Salem program.
Cohorts: Upon registration, learners will be divided into cohorts of up to 12. Each cohort will have a Lead Instructor, with an Assistant Instructor floating between two cohorts. Lead Instructors may rotate to different cohorts to teach a specific lesson to each cohort (e.g. Teacher A will facilitate a lesson on the life cycle of a butterfly, while Teacher B teaches an art project on bird habitats, to each different age group at different times, but the learners remain in their cohorts throughout the day.)
What Do We Do?
Explore = Spaces, Ideas, People
Discover = Who, What, Where, Why, How
Create = Making, Doing, Being
Connect = To nature, To ourselves, To each other
What does this "look" like? Our daily programming will consistently make time for reading, discussion, exploration, creativity, questioning, and challenge. Under the guidance and direction of skilled instructors, learners will explore various ideas, topics, and skills using nature and the environment around us as our foundation for discovery.
Each session will have a schedule that includes some free exploration time, a guided group learning opportunity, and some independent work. We value connection at the core of everything we do, especially right now when connection is needed most. We believe in relationships as a cornerstone for learning and place a high emphasis on social emotional learning.
We maintain our commitment to making learning fun and engaging, while also holding a high expectation for participation.

Safety Guidelines:
Distancing & Safety: All participants and cohorts will have masks worn by all instructors, staff, and participants. Hand sanitizers will be available in each cohort and bathroom facilities with handwashing stations are available on site for regular needs breaks. Mask-wearing for learners is required throughout this program. Our mask requirements are subject to change based on science or government mandates. If you are not comfortable with the idea of your learner wearing a mask, this may not be a good fit for you. All instructors are Adult/Child First Aid & CPR trained for safety.
Weather: We meet outside rain or shine, all year long. We will have access to a shelter, but with social distancing guidelines, it's unlikely that all cohorts will be able to be in the same shelter at once for the entirety of the session. Be prepared to be outside, to be cold, wet, and uncomfortable in moments. This is part of the learning process! We plan to use the outdoors to expand, deepen, and challenge our learning potential and with a few exceptions made for safety, the weather is part of the experience!
Inclement weather cancellations will be determined using the following criteria to be decided by 9 pm the night before:
daytime high predicted to be below 40 degrees
ice/snow predicted
high wind warning
area school closures
Check-in & Check-out: Due to COVID-19 safety recommendations, this will be a check-in/check-out program and not a drop-off program.
Note: Parents are required to check their learners in and out with a staff member each day. Upon registration you will receive a drop-off and pick up time for the term. Please arrive promptly for check-in and check-out as this will affect safety for all participants. Upon registration, you will also be asked to list any authorized pick-ups for your learner for the duration of the term and the authorized pick-up will need to provide a photo ID present for release. Each day for check-in you will need to walk your learner to meet their instructor, answer the safety protocol questions, and your learner will have their temperature checked. Upon approval of the questions and temperature check, learners will be admitted into the program that day. Any results of a "yes" response on the questionnaire renders the learner unable to participate in the program that day and possibly up to 14 days depending on the presence of any possible symptoms.
For a link to Voyagers Outside COVID-19 Protocols & Procedures, including the questions for each day's check-in, click here