We know that there is a lot of uncertainty in the world right now, but we are clear about one thing: Village Home is here for you. We know you are looking for learning AND community, and we are here to give you both. We have been working hard on a slate of over 150 engaging online classes and clubs for you to choose from this fall. Our teachers and our staff are committed to providing our learners with connection as well as quality classes, something we feel is incredibly important right now. Let's connect, learn, and have fun together!
We have compiled a select group of our outstanding classes into an online format that includes live, group instruction time. We look forward to face-to-face instruction as soon as it is possible! In the meantime, we hope this makes learning at home a little easier and more fun for everyone and we look forward to seeing you online!
We also offer online CLUBS and LOUNGES, which are free or low-cost ways to gather to explore common interests, or to just hang out virtually.
To help our families during this time, we have a new discount for siblings learning together online, as well as a chromebook loan program.
Village Home reserves the right to cancel any class for any reason. If a class does not have sufficient enrollment, we will cancel it and give you a refund for the remaining classes. If we cancel a class during add/drop week, you will receive a full refund.
Once Enrolled in Online Classes
We thrive because we are connected as a community. At Village Home, the parent is the primary educator, so we need to work together to make the online experience as enriching as possible. Our instructors are focused on community in the classroom as well. Here are some guidelines to share with your learner so that they come to class ready to OWN THEIR LEARNING.
Learners will need a computer and functional internet that supports online conferencing. Please contact us if you are interested in our Chromebook Loan program.
Your teachers will send you an email with details about logging into the appropriate Zoom classroom. You can download Zoom for free here. Find the download that is best for your platform (client). Be sure to check your spam folder for emails from teachers.
Log into your virtual class 5 minutes before class is scheduled to start.
Parents need to be on standby during classes to assist your learner with any technical needs, especially the first week, until they are accustomed to their new "classroom".
Details about technology-related requirements are HERE.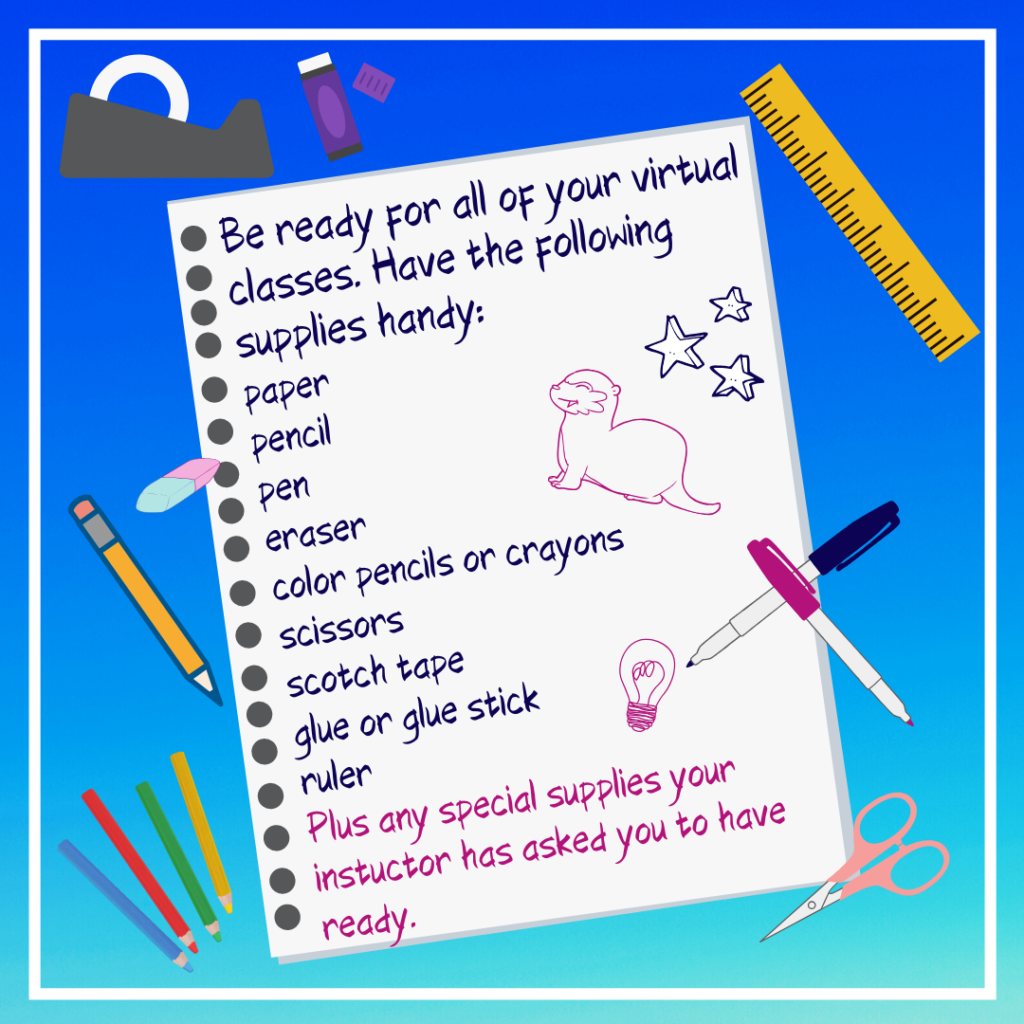 Google Classroom Learning Management System
Many of our classes post work in the Google Classroom platform. Learners will be issued a villagehome.org login for use in Google Classroom. Learners age 12+ will be issued a villagehome.org active email as well.
Materials and Required Books for Classes Online
Materials for online classes are kept as simple as possible. We recommend gathering the materials on the supply list for all of your online classes. If additional materials are needed, your teacher will let you know. Materials will be simple items from around the house whenever possible. In some cases, reserving reading materials on Libby, or purchasing a kindle book or paperback book may be needed (these are noted in the class description). Please contact the office if obtaining the required materials is a burden and we will do our best to help you.
Class Kits
In some cases, the instructor will have a "kit" of materials for each learner. Families will pick up their kit on campus (socially-distanced) the week before classes start. Your instructor will send details.