Sign up in the Registration System beginning at 12 noon on January 7  HERE. Space is very limited!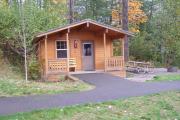 Do you like togetherness? This is a different kind of camping that has a communal aspect to it. We stay in cabins (see picture), and eat and play in a central meeting hall together. In March, it is pretty chilly up there (think light snow), but there are plenty of trails to walk or bike on. Every family has their own cabin (with heat and electricity). Cabins sleep 5 (bunk with double-bed bottom and a twin top, plus a futon that folds out to a queen).  There are two PET OK cabins available on a first-come, first-serve basis. Please note, there is a $20 additional charge ($10/night) for these cabins.
Meals are prepared communally by teams of two-three families.  Each team will plan a menu for 50-60 people that includes non-vegetarian, vegetarian, and gluten-free options. The team is responsible for purchasing groceries, cooking the meal, and cleaning the kitchen afterward. Families who want to be part of the trip, but don't want to eat communally, are still responsible for being on a meal team.  The kitchen is available for group meals, so those wanting to prepare independent meals will need to do so at their own cabin campsite.  On Sunday, one member of each family helps clean and shut down the main hall.
Cost: $155/Family, plus each family shares in the cost of preparing one meal for the group. This covers your cabin, plus your part of the deluxe meeting hall that we have reserved all day Friday – Sunday.
More Details HERE