Registration Opens Monday, March 30 at 12 noon HERE
Add/Drop Period Ends on Friday, April 10, 2020
Classes begin the week of April 6 and will run for 10 weeks.
We have compiled a select group of our outstanding classes into an online format that includes group instruction time. We look forward to face-to-face instruction as soon as it is possible! In the meantime, we hope this makes learning at home a little easier and more fun for everyone and we look forward to seeing you online!
Registration Information for ONLINE courses:
Registration opens Monday, March 30th at 12:00 pm here.
You can view our listing of offerings here (click on More Details to read the course descriptions).
Please log on to your family account (also located on the upper right of villagehome.org). Once on the registration page, you will find Online Offerings associated with the "Beaverton" location and the "Salem" location, but learners are welcome to sign up for any online classes, regardless of their home campus!
We have a fantastic opportunity to take classes from outstanding faculty members from all of our campuses. Be sure to check both Beaverton (all Portland offerings are listed there too) and Salem to see the entire array of classes available online.
Be sure to click the More Details link before registering for a class to see all of the important information about the class — things have changed, even with familiar classes because of the online world we are living in.
Enrolling in Online Classes
Registration will open online at noon on Monday March 30. You will NOT be automatically enrolled in the online version of this class (even if you were signed up for the in-person version). You must register by logging into the Parent Portal and enrolling for the NEW online version of the class. Find great online classes in both the "Beaverton" and "Salem" locations open to all learners.
To be clear, you must register for online classes, even if you were previously enrolled in a class that is moving online. Enrollments will not automatically rollover.
Tuition for Online Classes
Virtual Village offerings will be available on a "pay-what-you-will" scale of $60 to $120 for 10 hours of instruction. You chose your payment level from the Billing Schedule drop-down menu on the enrollment page.
Add/Drop, Refunds and Cancellations
Online Village classes will be open for enrollment through Friday, April 10. Full-refund drops are available through Friday, April 10.
Because of these unprecedented times, we are offering prorated refunds after the add/drop period. Beginning Monday, April 13, you will receive a refund for the remaining full weeks (prorated on a weekly basis). We are providing this generous refund policy during this unprecedented time. We are doing our best to support our teachers, so maintaining your enrollment will be appreciated!
Village Home reserves the right to cancel any class for any reason. If a class does not have sufficient enrollment, we will cancel it and give you a refund for the remaining classes. If we cancel a class during add/drop week, you will receive a full refund.
Once Enrolled in Online Classes
Learners will need a computer and functional internet that supports online conferencing.
Your teachers will send you an email with details about logging into the appropriate Zoom classroom. You can download Zoom for free here.  Find the download that is best for your platform (client).  Be sure to check your spam folder for emails from teachers.
Log into your virtual class 5 minutes before class is scheduled to start.
Parents need to be on standby during classes to assist your learner with any technical needs, especially the first week, until they are accustomed to their new "classroom".
Details about technology-related requirements are HERE.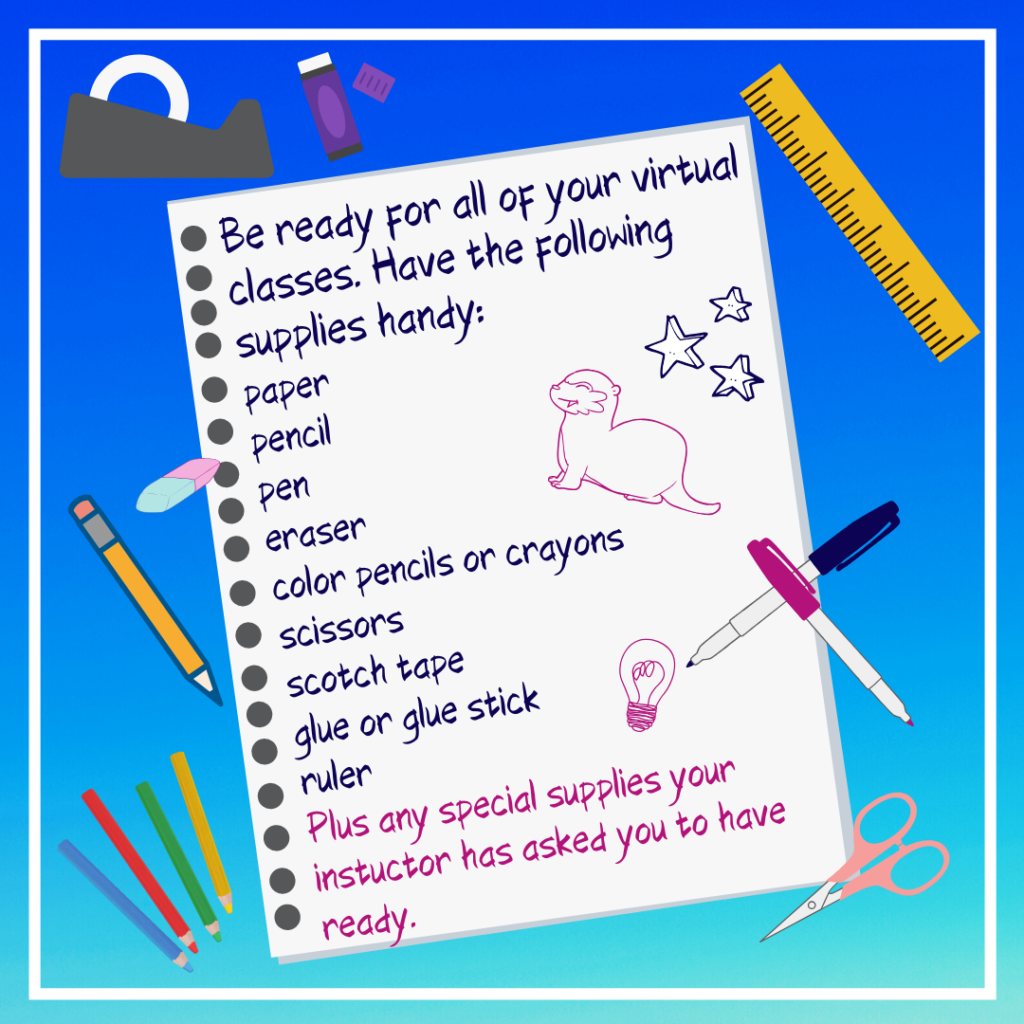 Materials for Classes Online
Materials for online classes are kept as simple as possible. We recommend gathering the materials on the supply list for all of your online classes. If additional materials are needed, your teacher will let you know. Materials will be simple items from around the house whenever possible. In some cases, reserving reading materials on Libby, or purchasing a kindle book or paperback book may be needed (these are noted in the description). Please contact the office if obtaining the required materials is a burden and we will do our best to help you.