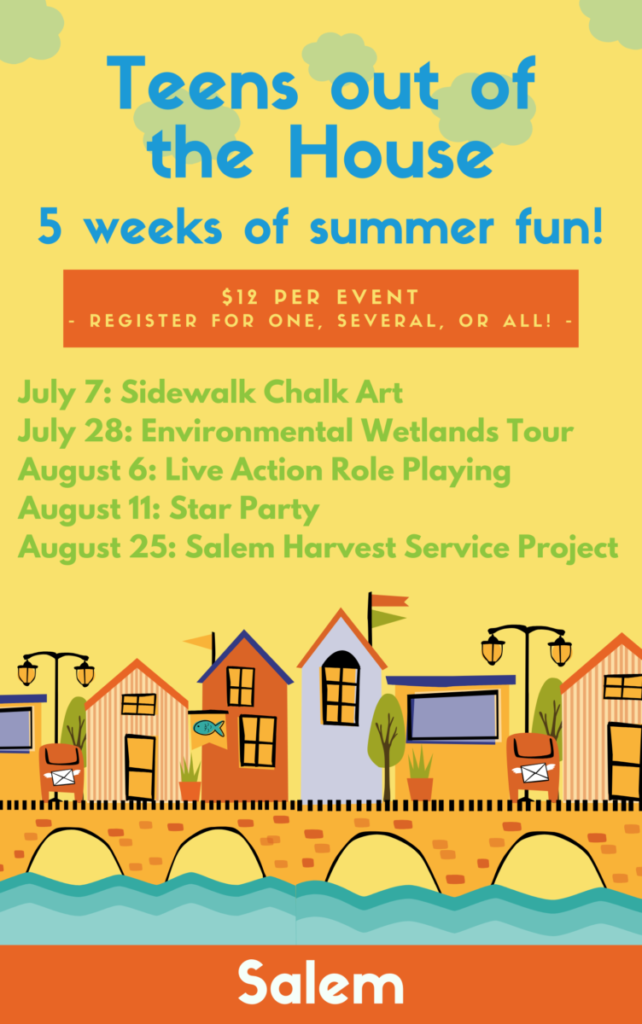 Teens out of the House – SALEM – Five Weeks of Summer FUN 2020
Ages 13 – 18 (not flexible – must be 13 by June 1, 2020)
Most meetings are Tuesdays in the afternoon, with some exceptions.
Facilitators: Loriann Schmidt, Brigitte Miller, Stephanie Barth, Brianna Wolterman
(Maximum number of participants per event = 10)
Keep in touch with your friends as you visit places in and around Salem together. Meet other VH teens, and explore. We will spend time having adventures, learning about Salem, and even serving our community with a service project. Please note: Village Home is NOT responsible for transportation to and from the events. Know that late arrivals cannot be accommodated because we are often on the move. Protocols for health safety can be found here. Participants are expected to read, understand, and adhere to health safety protocols. Participants should bring their own snack/water bottle. Be sure to register your teen for every event they plan to attend. They can sign up for as many as they like.
Register here: https://app.iclasspro.com/portal/villagehome/camp-details/102?typeId=3&filters=%7B%7D
COST: $12 for each event ($60 for all 5). Participants may choose to register for one, several, or all events.
| | |
| --- | --- |
| Schedule | Descriptions and Meeting Details |
| WEEK 1: Sidewalk Chalk Art, Tuesday, July 7, 2-4pm | Let your creative side show! Join our Village Home Salem art teacher, Brigitte, for a little lesson in murals. You will have your own section of sidewalk to create a work of art with sidewalk chalk. No art experience necessary! You can receive guidance and instruction from Brigitte, or just let your creative juices flow. Location: Keizer Rapids Park.1900 Chemawa Rd N Keizer, OR 97303. Facilitator: Brigitte Miller |
| WEEK 2: Environmental Wetlands Tour, Tuesday, July 28, 10am-12pm | Join VH instructor Brianna Wolterman on a Wetlands Tour! Our group will learn about the habitats and ecosystems of Baskett Slough. Make stops along the way to observe wildlife and nature. Discuss the environment together, learn about our impact on the land over history and in present-day, and do some group problem-solving for ways you can directly affect your community and environment in a positive way. Bring water, snacks, and be prepared to hike and explore. Location: Baskett Slough Wildlife Refuge. 10995 Oregon 22, Dallas, OR 97338. Facilitator: Brianna Wolterman |
| WEEK 3: Live Action Role Playing, Thursday, August 6, 11am-1pm | Sometimes, the simplest things turn out to be adventures. Take for example, the Piper on the Hill. A roadside inn on the road from Rivertown to the Lake of Seven Crowns found itself haunted by a ghostlike piper, dressed in kilt and playing the pipes nightly. Though no harm came to the visitors of the Inn, their sleep was disturbed, and within a quarter year, word had spread, and very few would visit the Inn. Many tried to banish it, but none have succeeded thus far… would you care to test yourself against The Piper on the Hill? Join Loriann and Erich Schmidt as they present this fun live-action role-playing game in COVID-distanced style! Join us in costume, or just come as you are! Characters will be pre-generated and the simplified rules will be explained at the site. Loriann and Erich have been writing, producing and running LARPS since 1988 and are excited to bring the fun to Village Home Teens out of the House this summer! Location: Champoeg State Park. 8239 Champoeg Rd NE, St Paul, OR 97137. Facilitator: Loriann & Erich Schmidt |
| WEEK 4: Star Party, Tuesday, August 11, 9:00-11:00pm | Join Village Home instructor Stephanie on a journey through the night sky! We will begin with a solar walk to give us a little perspective on the size of our solar system! Then, after a short talk on telescopes and proper viewing safety, we will tour the stars. See constellations traced with a laser pointer and hear ancient stories of the constellation characters. Peer through telescopes to see deep space objects. Enjoy a beautiful summer night and maybe even see a few meteors! Location: Fordyce Farm. 7023 Sunnyview Rd NE Salem, OR 97305. Facilitator: Stephanie Barth |
| WEEK 5: Salem Harvest Service Project, Tuesday, August 25, Time announced 5-7 days before event | Feed the hungry in our community, and feed yourself too! The organization Salem Harvest gets in touch with local farms to glean leftover crops. There is usually a fair amount of produce leftover in a field after it has been harvested by machines or farm workers. Salem Harvest makes sure this food doesn't go to waste! Half of what you pick you get to take home. The other half is donated to the hungry in our community. Waivers from Salem Harvest are provided the day of the event – parents must stay to sign. Location: announced the week of the event. Facilitator: Loriann Schmidt and Salem Harvest staff/volunteers. |
Thanks for sharing your summer with Village Home!

Additional Information:
You will be emailed two Village Home waivers that must be completed. Teens with incomplete paperwork will not be allowed to participate. No changes, refunds, or cancellations 2 days prior to each event.
Health Safety Protocols for Village Home Summer "Teens out of the House" Events.

Village Home is committed to making these events personal and meaningful for the participants, and will work with them to continue to co-create a learning environment based on acceptance and mutual understanding. Please note that information necessary for contact tracing will be collected at these events.

The following protocols will be in place for all in-person Village Home teen events this summer:

Parents must assist their learners to self-screen for symptoms a few hours prior to the event. If participants and/or any member of their household have experienced any of the following symptoms in the 72 hours preceding the event, the participant must stay home.

Known fever of 99.9 or greater
Chills
Cough
Shortness of breath/difficulty breathing

Attendance is strictly limited to enrolled teens and staff.
Drop off: parent pulls up and accompanies teen to check-in with facilitator.

Learners will answer health questionnaire and their temperature will be checked by the facilitator before the parent has left.

Learners who do not pass the questionnaire will be asked to return home with their parent.
Learners with temperature at or above 99.9 degrees Fahrenheit will be asked to return home with their parent.

Learners with temperature at or below 99.8 degrees Fahrenheit use hand sanitizer, pumped by facilitator before they join the group.

Participants must wear masks (If participant does not have access to a face covering, they should inform us prior to the event and we will provide one)
Employees/facilitators/volunteers wear masks
An effort will be made to maintain physical distancing of 6ft

Participants of same household are exempt from spacing between one another

Extremely limited use of shared equipment. Any necessary shared objects will be sanitized between each use.
Pick up: parent pulls up for teen to get in vehicle. Parent stays in the car.
If you or your learner have any questions about these protocols, please contact your campus admins:
Beaverton/PDX – office@villagehome.org
Salem – salemoffice@villagehome.org