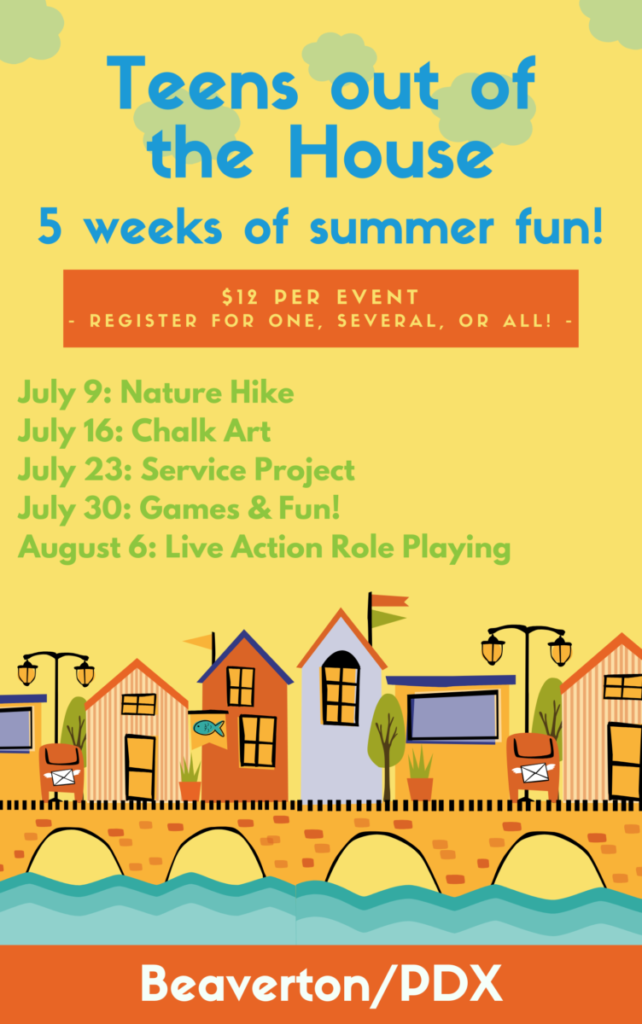 VH Teens Out of the House – Five Weeks of Summer Meet-Ups (BEA/PDX)
Ages 13 & up (must be 13 by June 1, 2020)
Meetings are Thursdays, 1:00 – 3:00 pm (July 9 – Aug 6)
Locations: Varied. See each event for more details.
Facilitator: Whitney Johnson
(Maximum number of participants per event = 10)
Meet up, play, learn, and explore at a safe distance this summer! Meet other VH teens and do activities together in local parks and outdoor spaces. Please note: Village Home is NOT responsible for transportation to and from the events. Please be aware of arrival and pick up locations and times. Bring your own snack and water bottle. Wearing a mask is preferred. Hand sanitizer will be provided and available from instructors, and temperatures will be taken upon arrival. Waivers must be signed and turned in before participants can attend the event. If you were unable to sign the waiver online, they will be provided in person at the arrival site for parent/caregiver authorization before the event begins. 
Register here: https://app.iclasspro.com/portal/villagehome/camp-details/105?typeId=3&filters=%7B%7D
COST: $12 per person, per session (you can register for individual sessions or all sessions depending on availability)
| | |
| --- | --- |
| Schedule | Descriptions and Meeting Details |
| Date: Thurs, July 9Activity: Nature Hike Time: 12:45 – 3:00 pm | Meet at Tryon Creek State Park for a hike amidst the sword ferns and Douglas Firs of Oregon! We'll hike a mile of the Centre Trail and see what we observe along the way. Bring your binoculars and guide books and let's get curious about our forests! Location: Tryon Creek State Park, 11321 SW Terwilliger Blvd, Portland, OR 97219 |
| Date: Thurs, July 16Activity: Chalk Art Time: 1:00 – 3:00 pm | Meet at Evelyn M. Schiffler Memorial Park at 1:00 and we'll design and make a mural as well as some chalk art messages to lift people's spirits and empower them! Chalk will be provided for each participant and they'll be able to take it home with them at the end! Tape will also be provided for "stained glass" type chalk art.Location: Schiffler Park, 5495 SW Erickson Ave, Beaverton, OR 97005 |
| Date: Thurs, July 23Activity: Service ProjectTime: 1:00 – 3:00 pm | Become a steward of our beloved natural area: Forest Park!! We'll take a short hike to one of the various sites and work off-trail removing English ivy, planting native plants and occasional trail work. This is a DIRTY job so come prepared in grubby, long-sleeved clothing and boots. We'll provide gloves and tools. Location: Forest Park, Portland, OR, 97231 (specific location TBD) |
| Date: Thurs, July 30 Activity: Games & Fun! Time: 1:00 – 3:00 pm | Meet at Cook Park for good old fashioned outdoor games like Capture the Flag! Hide and Go Seek (it's fun if you play it right!), and Sharks & Minnows! We'll get physical and play games that can be played at a distance (with some creative modifications so there's no tagging). Come ready to move outside, break a sweat, and PLAY!!! Location: Cook Park, 17005 SW 92nd Ave, Tigard, OR 97224 |
| Date: Thurs, Aug. 6Activity: LARP (Live Action Role Play)Location: Champoeg State ParkTime: 1:00 – 3:00 pm | Sometimes, the simplest things turn out to be adventures. Take for example, the Piper on the Hill. A roadside inn on the road from Rivertown to the Lake of Seven Crowns found itself haunted by a ghostlike piper, dressed in kilt and playing the pipes nightly. Though no harm came to the visitors of the Inn, their sleep was disturbed, and within a quarter year, word had spread, and very few would visit the Inn. Many tried to banish it, but none have succeeded thus far….. would you care to test yourself against The Piper on the Hill? Join Loriann and Erich Schmidt as they present this fun live-action role-playing game in COVID-distanced style! Join us in costume, or just come as you are! Characters will be pre-generated and the simplified rules will be explained at the site. Location: Champoeg State Park. 8239 Champoeg Rd NE, St Paul, OR 97137 |
Thanks for sharing your summer with Village Home!