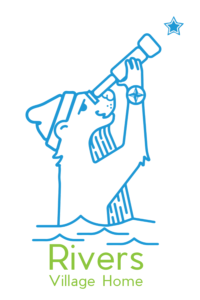 Happy learning happens here. In Rivers, learners are academically and socially engaged and inspired to take ownership of their learning. This program is designed for homeschooling families looking for a classroom community part-time. Please note, this is NOT designed to be a comprehensive program — it is part-time only.
Overview
Days: Monday and Friday, approximately 33 weeks/year
Time: 9:00 – 3:30 (early drop-off and pick-up options available)
Ages: 5 – 11 (K-5th mixed-age cohorts)
Location: Beaverton Campus, 5150 SW Watson, Beaverton OR 97005
Instructors: Shannon Reilly, Aimee Sharp, Emily Souther
Covid-19 2020-21 Update
Rivers will not meet in-person, indoors in 2020-21 and 1-hr connection times on Friday will continue through the Spring. During this time together, we will build community as well as a love of learning. In addition, we are thrilled to provide Rivers learners with a Thrively account (not the basic free version, which is also cool), where the teacher will occasionally check-in to see what interests (academic and beyond) your learner is pursuing independently. This is a temporary adjustment and the info below is our typical Rivers format and will resume Fall 2021.
Who Is Rivers Day Program For?
Homeschooling families who value high-quality educational opportunities as much as learner autonomy, and who are seeking academic and social enrichment on a part-time basis for their children. In the Rivers Day program, the parent is still seen as the student's primary educator. Because this is a cohort-based program, learners in the program need to be operating academically, socially, and emotionally at grade level.
How Do I Apply?
Learn: Read through the information on this page, then email hello@villagehome.org with any questions. We will be happy to answer questions about the program and how it may serve your child. Visit the Rivers Facebook Page too.
Apply: Application link below
Interview: Rivers Admissions Coordinator will set up an interview time for you and your child. There is an Application Fee that must be paid prior to the interview being scheduled ($60, non-refundable).
Admission Decision: An admission decision will typically be sent to you within 10 business days of your interview.
Deposit and Contract: A non-refundable deposit is due with a signed contract within 5 days to hold your spot.
VISIT THE RIVERS DAY PROGRAM FACEBOOK PAGE
The Rivers Day Program is committed to pro­viding an educational environment free from discrimination and harassment. We do not discriminate on the basis of race, color, national or ethnic origin, sexual orientation, or any other status protected under applicable federal or state laws. Village Home is sometimes located on church property, but is not programmatically affiliated with any religious organization.