Village Home is doing a great fundraiser to gather BUSHELS of SUPPORT. It's a delicious fundraiser too! We are gathering bushels of support for Village Home by selling 20-pound boxes of apples or pears grown in Oregon. There are several varieties to choose from — if you are thinking about making a pie this Thanksgiving, here's that extra motivation! And, if you are not into apples and pears, there's also a quick way to just make a contribution that is tax-deductible.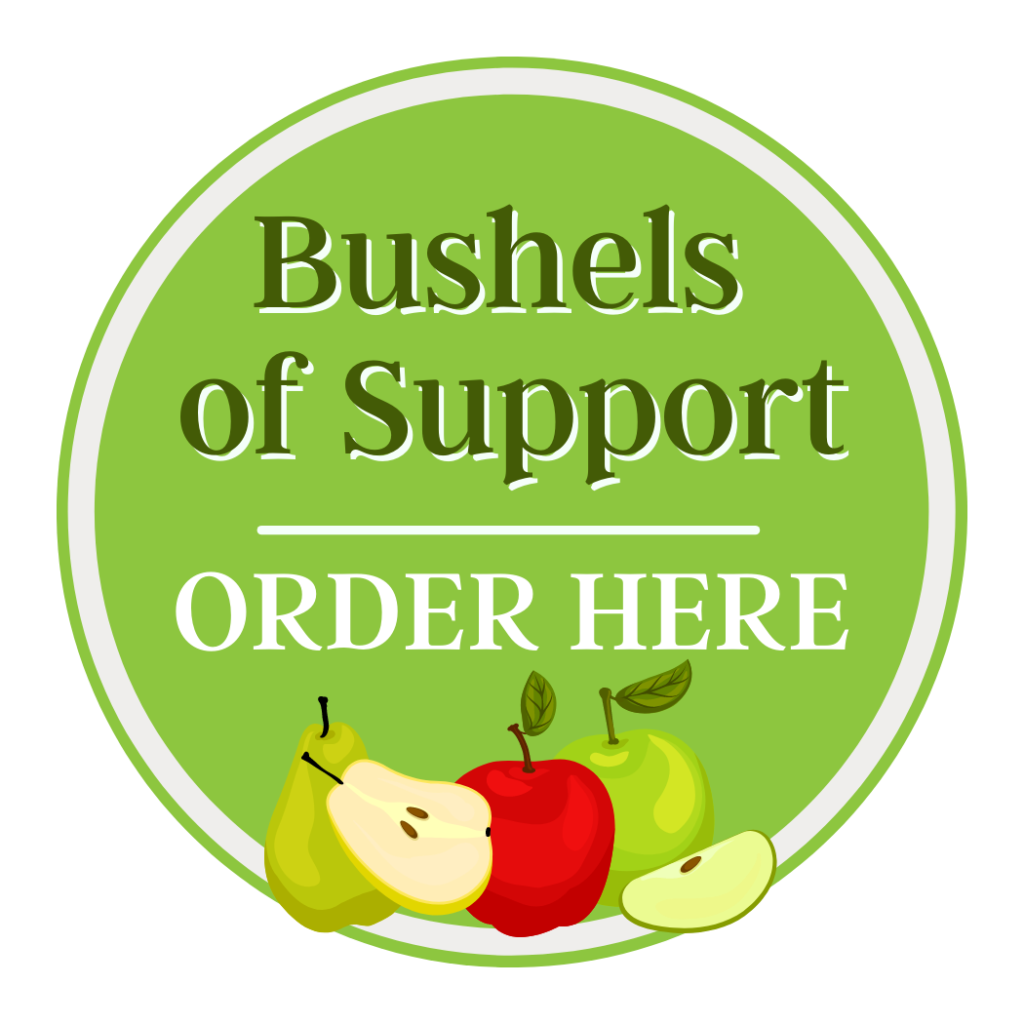 To order
Fill out the form
Choose your apples or pears
Checkout and pay online
It is that easy!!! We appreciate your support!
In terms of pickup you have a couple of options:
Pickup.Portland-Area: pick up on Saturday, November 13 between 3-5 pm at Village Home, 5150 SW Watson, Beaverton, 97005
Salem-Area: pick up on Sunday, November 14 between 3-5 pm at 3737 Croisan Creek Rd. S.
For our Families who are SELLING Apples and Pears
Please help us raise needed funds for operations. This year we are running at a deficit and need everyone's help this year — as a community of families, we all need to do our part. We are asking each family to work to sell at least 5 boxes of apples in order to reach our goal to raise at least $5000!
We have partnered with Kiyokawa Family Orchards in Oregon to get a deal on 20lb boxes of apples or pears. There are many varieties to chose from, so we're certain you'll find a box to your liking. Families who sell at least FIVE boxes of Apples or Pears to friends, neighbors, co-workers will be able to use an apple press and press their fruit at pick up! Order a box to eat and a box to juice for yourself!
Here's what you do:
1. Make note of our apple and pear selling site to share with your neighbors, co-workers, and friends: https://villagehomeapples.square.site/
2. Share the site with friends, family, neighbors, colleagues and encourage them to order before November 5. Here are two sample emails you can send for your friends, or give them a call and talk through these with them.
3. Order a box for your family before November 5!
4. If you want to OFFER to deliver apples to the folks you sell to, you are welcome to do that, but the default will be that PDX-area people pick up their order on Saturday, November 13 between 3-5pm at Village Home in Beaverton (5150 SW Watson), and people in the Salem area pick up on Sunday, November 14 between 3-5pm at 3737 Croisan Creek Rd. S.
5. As a thank you bonus — Families who sell at least 5 boxes can use the apple press we will have on-site at pickup to juice your own apples as a family.
Orders are due by November 5th. Apple and pear pick up is November 13th (PDX area) and November 14th (Salem area) from 3:00-5:00.
Questions? Call Village Home at 503-597-9100
Want to help at Apple pick-up and pressing? Contact VH at 503-597-9100 and we will get you in touch with the volunteer parent coordinating pick up.