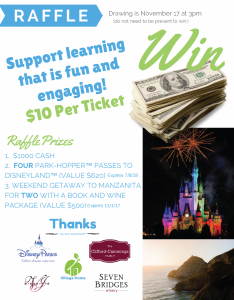 Support learning outside the box! In our grade-free, test-free environment, students are free to learn!  Our annual raffle helps fill the gap between what we charge for tuition and what it costs to provide our fun-filled, inspiring classes to more than 500 students on three campuses. Thank you for your support!
Prizes for 2016:
1. $1000 cash
2. FOUR one-day Park Hopper® tickets to Disneyland® (value $620)*
3. Weekend Getaway for TWO to Manzanita Oregon.  (value $500)**
Includes a stack of good reads from VJ Books and a selection of
wines from Seven Bridges Winery.
* Lodging and transportation not included. Expires 7/8/18, not valid 12/25-31. These tickets have no cash value and cannot be upgraded nor can they be applied towards a package to meet eligibility requirements. No replacements for lost or expired tickets provided for fundraising activities.
**Walk to the beach, walk to town for dinner or shopping, or just relax with good reads and delicious wines. Accommodations for two include a full kitchen. No pets allowed. Expires 11/1/17.  Not valid 12/24- 1/2 or week of July 4. Based on availability – reserve early.
To our supporters:
Purchase raffle tickets from any Village Home family, or stop by the office (call 503-597-9100 for hours).  Tickets are only $10 each, and the prizes are exciting. Your chances to win are 3:999. Drawing will be held on November 17 at 3pm. Do not need to be present to win. Thank you for your support, and good luck!
To our families:
Together, we can reach our fundraising goals.
Each year, we leave a gap in our operating budget to keep your tuition as low as possible. We count on filling that gap with fundraising efforts the families participate in.  We ask every family to sell at least 5 raffle tickets so that we can meet our budgeted needs for teacher's pay and other essentials.
For those families who want to go above and beyond, for every 5 tickets you sell, your name is put in a drawing for a $50 Amazon gift card. The family who sells the most tickets by November 11 gets a coupon for THREE free classes at Village Home. Sell tickets to your neighbors, friends, and co-workers. It's easy — just ask! If you don't like raffles, we totally understand. In lieu of selling tickets, you may make a tax-deductible contribution of $50 or more to Village Home here.
Pick up raffle tickets: Starting October 11
Turn in sold Tickets: November 11
Questions? Email fundraising@villagehome.org or call 503-597-9100.
[/vc_column_text][/vc_column][/vc_row]